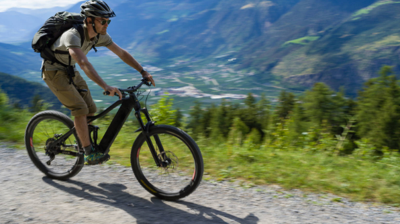 CONCORD — Electric-powered bicycles or e-bikes are a consumer sensation, becoming a more common sight along commuting roads in urban areas.
But the question of whether to permit them on trails within the White Mountain National Forest here and throughout the U.S. Forest Service system nationally has started a spirited debate.
Gov. Chris Sununu rode right into the issue last week, joining Arizona Gov. Doug Ducey in a letter to Agriculture Commissioner Sonny Perdue that sought to change Forest Service rules that define e-bikes as motor vehicles.
"E-bikes are an invaluable tool to ensure that individuals of all abilities are able to access and enjoy the Granite State's great outdoors," Sununu said in a statement. "I urge the National Forest Service to reconsider the classification of e-bikes as motor vehicles in an effort to expand opportunity and access to all that New Hampshire has to offer."
More than 50 conservation and environmental organizations, from the Appalachian Trail Conservancy and Pacific Crest Trail Association to the Wilderness Society, authored a letter last August protesting such a move.
"We oppose any effort that would allow any class of vehicle with a motor — including all classes of e-bikes, which by definition have a motor — to be allowed on non-motorized trails. A contrary interpretation would create an unmanageable slippery slope and threaten future management of all non-motorized trails and areas on public lands," they wrote.
"Non-motorized trails were created to ensure that the public could find recreational trail opportunities free from the ever-growing motorization and mechanization. Millions of public land users including hikers, backpackers, hunters, horse packers, climbers, mountain bikers and many more, value non-motorized trails for recreation. Opening non-motorized trails to motors would forever change the back-country experience for these users."
Kristen Brengel, vice president of the National Parks Conservation Association, a nonprofit that advocates for the park system, gave a real-life illustration.
"If you're hiking on a trail in Utah and you're rounding a bend and something's coming at you at 20 miles per hour, that really changes the experience," she said.
Allowed in national parks
Last Aug. 30, Interior Secretary David Bernhardt issued a policy decision instructing the entire National Park Service to adopt policies in the parks that give e-bikes the same access that traditional bicycles have.
An e-bike is classified as a two- or three-wheeled cycle with fully operable pedals and an electric motor of less than 750 watts (1 horsepower) that provides propulsion assistance. They combine the frame of a regular bike with lightweight batteries and the motor and bike can cost $2,000 or more.
Sales in 2018 jumped 72 percent. While they only make up 6 percent of the bicycle market their market share has tripled in the past three years.
E-bike rentals are so popular that some bike store owners have gotten out of the traditional cycling business to exclusively sell or rent this option.
People for Bikes is a national group that's pushed for e-bike access and gotten lawmakers in 39 states to adopt policies governing them.
In 2018, New Hampshire joined 21 other states to pass a state law that spelled out this form of classification for e-bikes:
• Class 1 e-bikes have a motor that provides assistance when the rider pedals — often called pedal-assist — but once you hit 20 mph, you don't get an additional boost.
• Class 2 e-bikes have a throttle. The motor can propel the bike without pedaling at all, similar to a small motorbike. Motors are governed at 20 mph.
• Class 3 e-bikes are pedal-assist bikes that can go up to 28 mph.
Tyler Ray is founder of Backyard Concept LLC, a North Conway-based firm that assists clients with outdoor recreation projects.
He summarized the positives of promoting more e-bike use.
"They provide access for the impaired and increase their mobility. There's a clear climate-change benefit without the use of fossil fuels; you are allowing people to utilize bikes in both a traditional and new wave way," Ray said.
"I think it is OK to step away from being a purist and begin to view what the public demands are and how this could be benefiting communities as a whole."
Deep divides on issue
But Catherine Corkery, chapter director of the Sierra Club in New Hampshire, said this could ruin the peace and quiet that hikers pursue.
'Who said 20 miles per hour is a low speed on a trail where most people go three miles in an hour?" Corkery asked.
"Adding e-bikes to hiking trails in the Whites is not the direction NH Sierra Club recommends."
Business and Economic Affairs Commissioner Taylor Caswell said the change Sununu seeks would create consistency throughout recreational trails in the state, as Class 1 e-bikes do have access to trails in state parks.
Caswell, an avid mountain bike rider, said he doesn't believe Class 2 bikes that don't require pedaling should be allowed on park trails.
"It's one thing to allow a pedal-assisted e-bike on a dirt trail but it's quite another to allow an e-bike with a throttle that can take the rider from zero to 30 miles per hour in four seconds," Caswell said.
The U.S. Forest Service should create a public process and give park superintendents flexibility to tailor their policies to meet the unique charter of each location, Caswell said.
For example, advocates for the Acadia National Park in Maine initially came out against permitting e-bikes on the 50 miles of gravel trails in the park known as the "carriage roads."
"We would encourage park officials to consider the original intentions and agreements when the carriage roads were first conceived, constructed and donated to become part of Acadia — specifically for non-motorized use," they wrote to Interior Secretary Bernhardt.
But by the end of September park officials announced that they would permit e-bikes on the carriage trail system.
Deborah Ritcey, president and CEO of Granite State Independent Living, praised Sununu for his advocacy.
"GSIL has many consumers, that while able to bike, are not able to navigate some of the mountainous terrains, leaving them unable to enjoy all New Hampshire has to offer," Ritcey said.
"E-bikes are no different that SmartDrives for manual wheelchairs, a battery-operated device to assist those in need to propel their wheelchair. Are we now going to ban a wheelchair SmartDrive? By not allowing e-bikes in national forests, we are potentially, disregarding an already disregarded population."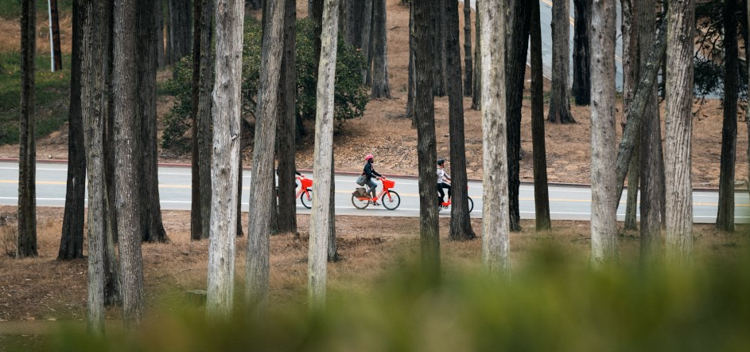 The e-bike decision regarding national parks has already sparked two lawsuits, the latest one last week from a coalition of conservation groups.
They charged the policy was the result of secret lobbying between e-bike industry leaders and federal executives that violated the Federal Advisory Committee Act.
The other suit from trail and forest advocates was over the federal agency's failure to conduct a public study before making its decision.
Tyler Ray, also of the American Hiking Society, urged traditional biking and mountain biking groups to get more involved in the discussion to help create the appropriate place for e-bikes.
"I do believe e-bikes one day will overtake the traditional biking market. So mountain and biking trail groups should tackle these issues because I think it's better to self-regulate user conflict than it is to have all of this take place and be decided through federal regulation," Ray said.